Manilla.com Review- Keeping Your Financial World Organized
Unfortunately, Manilla has been forced to close its doors. They will no longer be accepting new members. If you are already part of Manilla, then you will have until July 1st to deal with your account. I loved the service, but it was just not economically viable for them.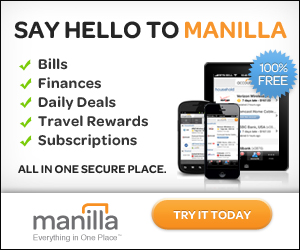 One of my goals this year is to get organized.  Though it might appear to some that I have my act together, I can assure that I do not.  Organization is not my strong suit and I am sure my wife hates it by now.  Even with the lack of organization, I still seem to get a lot done.  Not sure why, but it happens.  Since organization is my weakness, I have decided to start taking step to righting this ship.  My first step this year has been to get all of my bills organized.  I do have a whiteboard that lists all of my bills and their due dates.  It has been a great system for a long time.  Unfortunately, it looks like the efficiency is just not there anymore.  Luckily, I found Manilla.com.  Let me describe how it has changed my financial life for the better.
Manilla.com – What Is It?
You are probably asking the same thing that I did when I first found it.  What exactly is Manilla?  Well, it is very simple concept.  At the most basic level, Manilla.com is a free online bill manager.  It allows you to connect to your billing accounts which include credit card accounts, household utilities, magazine subscriptions, and many more.
Manilla.com is free to sign up for and use.  I signed up and was off an running in about 10 minutes.  Once you sign up, you have to input the login credentials to your billing providers.  I added my credit cards, utilities, and a few other providers.  It was really easy to use and much like Mint.com and Personal Capital.  It was a really comfortable interface to use with similar security measures in place.  Currently, there are over 3,500 providers on Manilla and more are added each week.  If you don't find your provider, then you can request it.  Manilla will take it from there.
Monitor Your Bills
The whole reason I wanted to sign up for Manilla was that my whiteboard method was becoming an issue.  My whiteboard sits in my office.  The problem is that I am not in there much any more.  I used to sit in my office each night doing work. Now, I work from different locations in my house.  That is the plus when using a laptop.  Since I didn't go in the office much, I didn't see the whiteboard on a daily basis.  Therein lies the problem.  My whiteboard was my vision to my upcoming bills.  any inconsistency with me being in the office can cause a hiccup.  I am not cool with that.
Since I can add all of my billing providers into Manilla, I can easily see what bills are due and how much the bill is.  It gives me the best picture into what is going on.  Not only can I see everything with just one login, but I can also get reminders to my email or text messages to my phone.  There is nothing easier than that.
I am really happy that I signed up for Manilla. I will be recommending this to everyone for two reasons.  One, the service is easy to use and is free.  Yes, it is FREE!  Second, it provides the best way to keep your financial life organized.  When you can have awesome technology help you out and keep you on track, then it is really important.  If you are looking to get your finances in order and pay your bills on time, then I recommend you check out Manilla.com.
Would you try out Manilla if you needed a little more organization with your bills?  Do you use Manilla now and if so, what do you like the most about it?
Disclaimer – I am not only a dedicated user of Manilla, but also an affiliate. If you sign up for their service, which is free, I get a small commission.  This helps me run this site and I thank you if you do sign up through one of my links.  It does not sway my opinion on the service.
Do you want to save money on your cell phone bill?  How about around $100 per month?  Customers of Republic Wireless can save money every month. Their plans start at $10 per month!  Learn more by reading the
Republic Wireless review
.